Cannot Login with facebook. Authentication Failed...
Cannot Login with facebook. Email Id was incorrect...
Please Complete the required field.
Motorcycle Carrier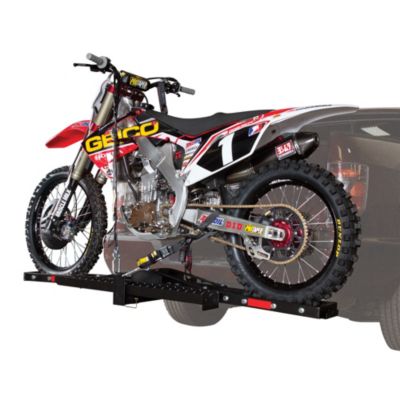 About The Product
The Trackside Motorcycle Carrier is an excellent way to carry your motorcycle on the back of a motorhome, SUV, or pick-up truck with a tonneau cover or camper shell. More convenient, simpler to use, and easier to store compared to a motorcycle trailer.

WARNING /!\
500lbs. maximum load rating.
For use with a Class III or Class IV trailer hitch only.
Never exceed towing vehicles tongue weight ratings or load ratings.
Features and Benefits
For use with a Class III or Class IV trailer hitch only
Includes anti-tilt device to help eliminate excessive movement of the motorcycle carrier inside trailer hitch
Supplied ramp attaches to carrier for transportation and storage
Powder coated steel construction
Front tire placement can be adjusted by moving the wheel track carrier bolts
Can be loaded or unloaded from either side
500 lbs maximum load rating
Maximum tire width: 4.75 inches
MUST USE a minimum of four tie downs and two wheel straps