Cannot Login with facebook. Authentication Failed...
Cannot Login with facebook. Email Id was incorrect...
Please Complete the required field.
Assault Leather Motorcycle Vest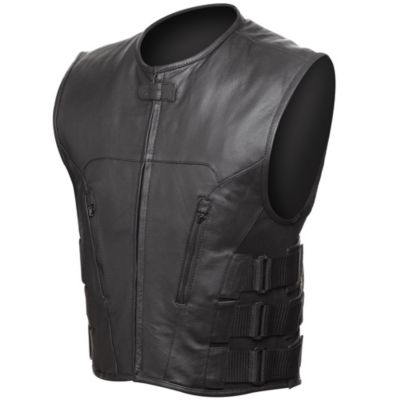 About The Product
Every day is a battleground on the streets. It is you and your motorcycle against an army of cagers, and the Street & Steel Assault vest is your uniform. Put it on, fire up the V-Twin, and ride off to victory.
Features and Benefits
Soft Milled 1.1mm-1.2mm Cowhide
Unique styling details and cut lines
Black Plastic #10 hidden front zipper, with single hidden snap closure at the collar
Leather piping trimmed generous armholes
Two outside zippered pockets
Two inside pockets: one zippered, one snap closure
Single panel back, ideal for patches, embroidery or airbrushed art work
American sizing, ample length, very generous oversize fit
Thick and heavy leather and Nylon, Velcro adjustable triple side straps over heavy spandex side panels for styling and additional size adjustment
Heavy duty long lasting black Polyester lining