Cannot Login with facebook. Authentication Failed...
Cannot Login with facebook. Email Id was incorrect...
Please Complete the required field.
Charger Off-Road Motorcycle Boots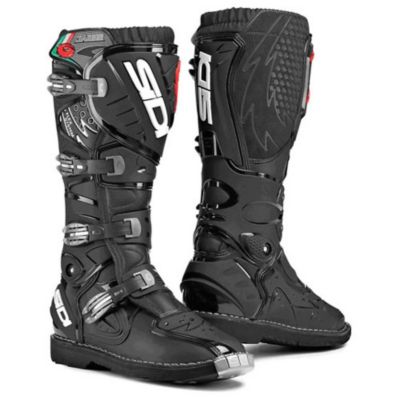 About The Product
Utilized on the Charger boot, the Single Flex System offers the rider free movement forward and backward while limiting its side to side deflection thus offering the rider maximum comfort and strength.

Three extended ribs are featured at the back of the boot to assist the rider in making upshifts with his heel when starting a race. Rigid, shock resistant, anatomically shaped heel for maximum protection.

Sidi boots do not incorporate inner booties into their design, and for good reason. Booties make the design larger and cumbersome; add to the boot's thickness, which interferes with shifting, plus the inner booties retain body heat affecting the rider's performance and comfort.

Sidi's exclusive cam-lock buckle system is acknowledged as the finest system on the planet. It must be as most of Sidi's competitors have attempted to copy various aspects of it. The cam-lock buckle system incorporates a strap memory retention system. Adjust the straps once and they will be at the same position for every ride after that! No more readjusting for every ride or mid-day during a ride.

The tip of the toe on the Crossfire and Charger boots are covered with plastic to protect the base material and seems against abrasion from brush etc. Plastic shift and brake lever guards on the top of each foot area.

Each Sidi boot is equipped with an anti-heat undressed leather protection panel at the same height of most motorcycle's exhaust heat shields.

Every bolt-on component of each Sidi off road boot is available separately. Riders can change the various components to replace items that have worn or have been damaged in a crash or to make a custom colored boot to match his/her personal taste.