Cannot Login with facebook. Authentication Failed...
Cannot Login with facebook. Email Id was incorrect...
Please Complete the required field.
Classic Tour Bag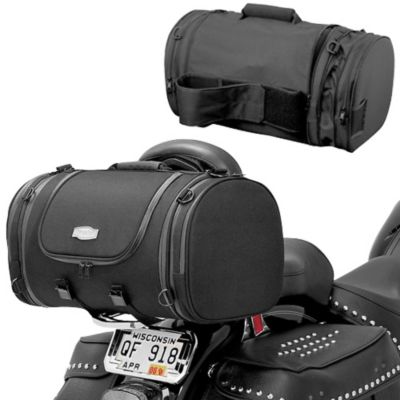 About The Product
The Classic Tour Bag is not your traditional roll bag. Place it on your luggage rack and securely fasten it to your sissy bar with its wide hook-and-loop strap. Place it on your passenger seat and it is perfectly sized to provide lumbar support for the rider. With its large center hatch and zippered ends you can gain access to the main compartment from almost any side. Expand the end compartments when you need that extra room and pack away. The weather is little threat with traditional Kuryakyn weather resistant construction and new self-sealing zippers. For those severe storms simply throw on the fully protective rain cover. The Classic Tour Bag provides ample protection for your items.


Features and Benefits
Zippered ends and large hatch allows access to main compartment from almost all sides
Expandable side compartments provide extra room when you need it and keep the bag narrow when you don't
Waterproof zippers with large glove friendly pulls
Convenient shoulder strap makes it easy to carry into the hotel after a long ride
1200 Denier construction for durability
Wide hook-and-loop belt securely attaches bag to any backrest
Semi-rigid construction provides support so the bag retains its shape even when empty
Included Items: Bag, Shoulder Strap, Two Adjustable Universal Straps & Rain Cover
Dimensions: 11" x 21" x 12" (Expanded: 11" x 24" x 12")
Capacity: 2,772 cu.in. / 45.42 L (Expanded: 3,168 cu.in. / 51.9 L)