Cannot Login with facebook. Authentication Failed...
Cannot Login with facebook. Email Id was incorrect...
Please Complete the required field.
Motosports Hero Roll Bar Mount Kit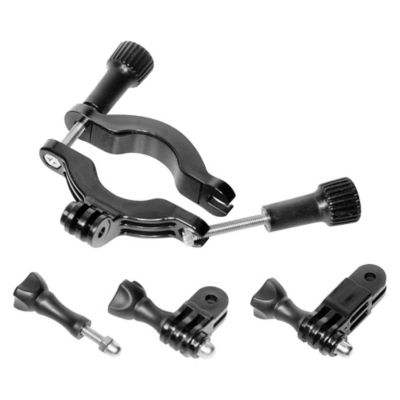 About The Product
Roll bar/tube clamp for mounting your quick-release GoPro camera on to tubes/frames ranging from 1.4 to 2.5 (3.5cm - 6.35cm) in diameter.

Perfect for clamping your camera to the radiator cap (both metal and plastic caps) on karts. You can also clamp to bike frames, bumper bars, ski/surfboard racks, or anything else that is in the size range above.

Comes with pivoting orientation arms allowing for 3-way adjustability, ensuring you can get the angle you want.
Features and Benefits
Compatible with all GoPro quick-release cameras including the Helmet Hero Wide, Motorsports Hero Wide, Motorsports Hero, Surf Hero, and Wide Hero cameras
Not compatible with the Digital Hero 5 Wrist Camera
Polycarbonate construction
Stainless Steel nuts and bolts
Clamp Diameter: 1.4 to 2.5 (3.5cm - 6.35cm)
Kit Includes:
One Roll Bar/Tube Clamp
One Three-way Adjustable Pivot Arm (three piece assembly)
Warranty: One Year