Cannot Login with facebook. Authentication Failed...
Cannot Login with facebook. Email Id was incorrect...
Please Complete the required field.
2015 PeeWee Titan Roost Deflector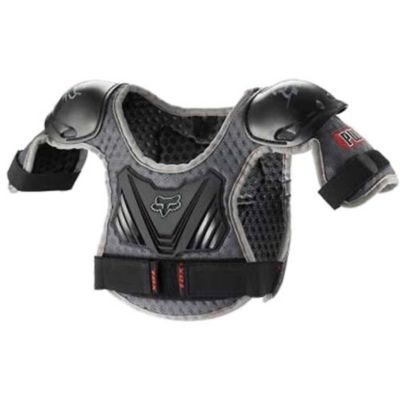 About The Product
PeeWee riders need upper body coverage that fits properly. The PeeWee Titan Roost Deflector gives PeeWee riders a comfortable, non-bulky fit, that's easy to get on and off. So all they have to worry about is enjoying the ride.
Features and Benefits
Smaller design specifically geared for children ages 3-9
Flexible and comfortable design gives Peewee riders ample coverage
Perforated foam chassis sculpts to body and provides great airflow
TPR chest plate for frontal-impact protection
TPR back plate with articulation hinge
Tough plastic shells for impact resistance
Easy-to-adjust, Easy to use elastic waist strap system with hook and loop closure is designed to be simple for both child and parents
Soft backing material prevents chafing
Perforated BioFoam chassis for increased ventilation
Adjustable armguard straps
Can be worn under or over jersey
Injection molded plastic shoulder pads