Cannot Login with facebook. Authentication Failed...
Cannot Login with facebook. Email Id was incorrect...
Please Complete the required field.
Laguna Expandable Tail Bag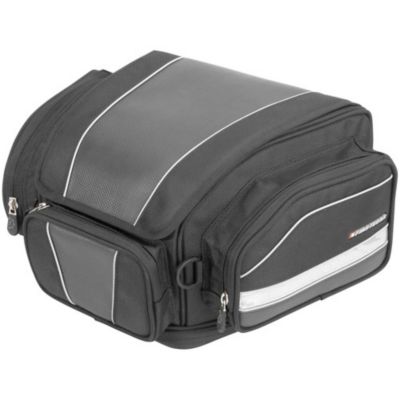 About The Product
Made of a UV protected PVC coated nylon, the Laguna tail bag from Firstgear attaches with built-in bungee cords. Multiple pockets allow for easy organization, and the tail bag expands vertically three inches, just in case you need a little more space.
Features and Benefits
Fabricated from RoadTex 1000 denier nylon with PVC coating and UV protection
Large capacity, vertically expandable by three inches
Three external, easily accessible, zippered pockets
Reflective piping to enhance night visibility from both the front and sides
Soft flannel lining protects valuables with a moveable partition for flexible loading
Zippered pocket inside of top cover for documents or other flat items and mesh lid
Attaches with built-in bungee cords
2 lower flaps to insure secure mounting to the bike
Equipped with an attached rain cover inside a concealed zippered pocket
Comes with a shoulder strap to ease off-bike transportation
Dimensions: 16.5"x 13"x 9" Expandable to 16.5"x 13"x 12"