Cannot Login with facebook. Authentication Failed...
Cannot Login with facebook. Email Id was incorrect...
Please Complete the required field.
Heated Socks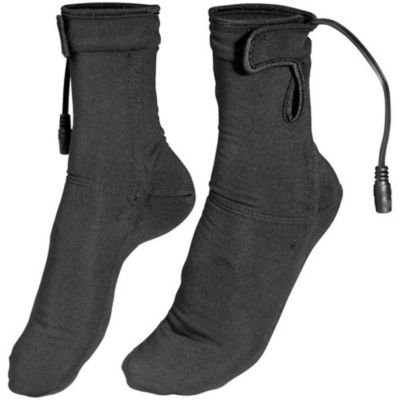 About The Product
Made for the motorcyclist providing heat in the toe area where bikers actually get cold from wind and spray. Made from microfleece, these socks are not bulky and since they use the latest in flat heat technology, you do not feel the wires. Unlike other products on the market, Firstgear heated Socks are comfortable, not too bulky, and keep your feet warm where they get cold.
Features and Benefits
Non-binding top
No annoying wires
Technical fabric that is thin, comfortable, soft, and wicks away moisture
Fitted heel, not a tube sock
Seamless toe to get rid of bumps
Five sizes for a better fit
Nine watts of heat in each sock at 12.8 volts