Cannot Login with facebook. Authentication Failed...
Cannot Login with facebook. Email Id was incorrect...
Please Complete the required field.
Battery Maintainer 1000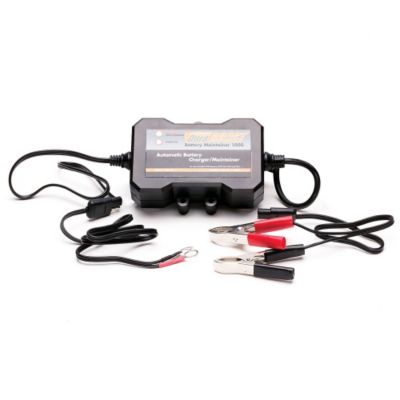 About The Product
The DuraBoost Maintainer 1000 is perfect for those wanting to charge and maintain their 12V lead acid battery.

Diagnosis: Checks for proper battery connection (polarity) and for internal battery damage causing a short.
Bulk Charge: Charges at a constant 1.5A (rated) current (output) until the battery is fully charged (13.6V±0.2V) and then the output is turned off.
Maintenance: The charger will have a very low output current (about 0.1A) to maintain the battery. The maintenance charging cycle is repeated to keep the battery in good condition when it is not in use and enables the charger to be left connected indefinitely.
Features and Benefits
Fully Automatic - Switches from "charge mode" to "maintenance mode"
Red LED light shows when charging and changes to Green when fully charged
1.5 amp charge rate
Overcharge and Short Circuit Protection
Includes quick disconnect Battery Terminal lead and Alligator Clip lead for ease of use
Safe for use on all 12v Lead Acid type batteries including, Conventional Flooded (wet), Factory Activated Maintenance Free (MF/FA), Absorbed Glass Mat Maintenance Free (AGM), and Gel (Gel Electrolyte) type batteries