Cannot Login with facebook. Authentication Failed...
Cannot Login with facebook. Email Id was incorrect...
Please Complete the required field.
FastPack Universal for 1-Piece Seats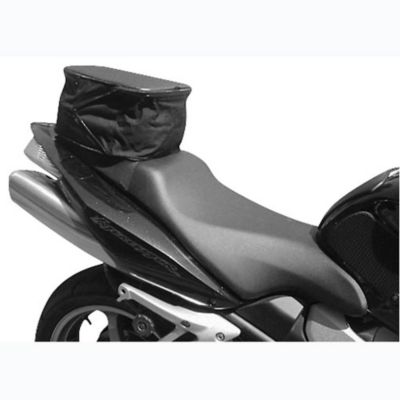 About The Product
An exclusive from Cycle Guys! The FastPack is now available for bikes with one-piece seats!

FastPack is a tailbag that, when expanded, gives you about the same cargo capacity as a tank bag, but without the hassles. The unique feature of FastPack is that when not needed, it collapses and zips down to become a padded seat cover. You never need to remove it from your bike! It doesn't interfere with gassing up your bike, doesn't get in your way when riding, won't scratch your paint and doesn't look dorky! Please note Cycle Guys does not recommend carrying a passenger with FastPack attached.

With gas prices going thru the roof, riding to work makes so much sense, except for when you want to carry stuff. FastPack is the best, most useful bag you can buy for a weekend trip, carrying your gym clothes, or just carrying your lunch to work!


Features and Benefits
Stretchy shroud that goes around the sides of your rear seat for a clean look
Heavy gauge hook-and-loop straps for secure attachment to your seat
Padded, carbon fiber-look cover
Heavy duty waterproof canvas
YKK waterproof zipper
Dimensions: 11.5" x 10" x 7"
Capacity: 805 cu.in. / 13 L