Cannot Login with facebook. Authentication Failed...
Cannot Login with facebook. Email Id was incorrect...
Please Complete the required field.
Women's Stella Vika Leather Motorcycle Pants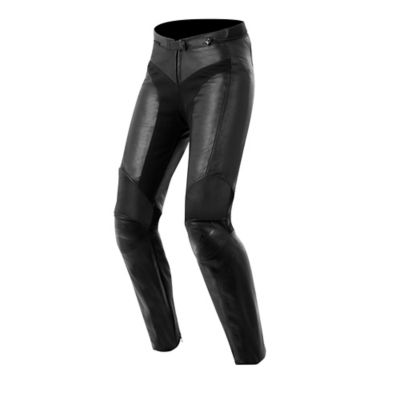 About The Product
Fashion meets function. Part of a full, stylish, line-up of riding gear including jacket, pants, gloves and boots; these body contouring, ultra-comfortable protective pants are inspired by the fashion runway trends of the top design houses and engineered to meet a women's needs for the bike and beyond.
Features and Benefits
The proprietary design pattern visually and physically thins, lengthens, and flatters the female figure
Buttery soft full-grain leather combines with generous ergonomic aramid stretch zones to optimize fit, comfort, and freedom of movement for many body types in a full range of positions
Removable CE-certified heat-and-impact-sensitive knee protection hardens on collision; especially chosen for Vika because it's so soft and thin that it allows the slimline shape to be retained and is unobtrusive for the wearer
Pre-curved leg shaping improves fit and comfort on the bike
Rear waist extended for riding comfort and coverage
Waist connection zipper for connection to Vika jacket